Basic Violet 8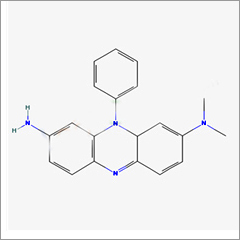 Basic Violet 8
Product Description
Fuchsin is red to purple dyes comprising the salts (acetate or hydrochloride) of pararosaniline and rosaniline. The chemical structure is triaminotriphenylmethane. It has superior green shine crystals, which make red solution when dissolved. This solution is used in coloring textiles & leathers. It dyes vegetable and animal in nature. Also, it is utilized as a bacterial stain, and in the commercialized preparation of other dyes.
Acid Fuchsin (acid magenta): a mix of sulfonated fuchsins utilized in Andrade's indicator and in different complex stains.
Basic Fuchsin (basic magenta): soluble in water; yellow to green powder; a mix of magenta II and fuchsins; dark green powder; used in staining of tubercle bacillus, as an anti-fungal agent in Castellani's paint, for identifying between coli and aerogenes bact, as a histologic stain, and as a germicide.
Methyl Violet (gentian violet, crystal violet): a pararosaniline derivative; used as an anti-allergen & bactericide, dark green powder; acid base indicator; for the Gram stain; with iodine Flemming triple stain; technique - Newton's crystal violet-iodine, and used in dyeing textile.
Features:

CAS NO

8004-94-2

Chemical Name

Phenazinium, 2-amino-8-(dimethylamino)-10-phenyl-,
ar-methyl , derivs., chlorides

Chemical Formula

C21H21CLN4

Mol Wt

364.71 gm/mole
Contact Us
F4/10, MIDC DIST. THANE, Tarapur, Maharashtra, 401506, India
Phone :+918045477580